Fostering excellence in sports and exercise through evidence-based practice.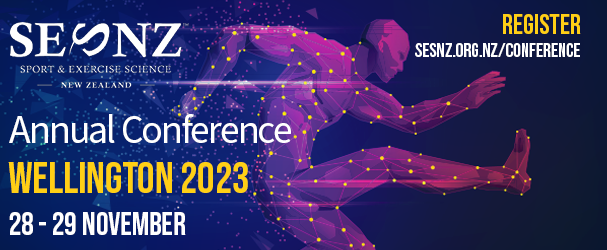 SESNZ is pleased to announce our annual SESNZ Conference will take place on the 28th and 29th of November 2023 at Te Herenga Waka – Victoria University of Wellington. We will bring together leading experts, practitioners and researchers to share their knowledge and insights. Keep an eye out for announcements about special conference events for our S&C and AEP members.
Click here for more information.
Registered Exercise Sports Scientist
As a recent graduate, you can begin your pathway to accreditation by becoming a Registered Exercise Sports Scientist (RESS) level 1.
Accredited Exercise Physiologist
Accredited exercise physiologists (AEP)  specialise in clinical exercise interventions for a broad range of people at risk of developing, or have existing, medical conditions and injuries.
Accredited Exercise and Sport Science Practitioner
Accredited Exercise and Sport Science practitioners (AESSP) are highly experienced practitioners with advanced knowledge, skills and expertise in exercise and sports science. 
Strength and conditioning accreditation
The New Zealand Strength and Conditioning Accreditation (NZSCA) has been set up under the umbrella of SESNZ, to support New Zealand's growing strength and conditioning community.
6-7 May 2023 Novotel Sunshine Coast Resort, Twin Waters, QLD Three days to go, have you registered?Online registration will close at 12:00pm Friday, 5 May 2023. After this time, you can register at the registration desk at the Sunshine Coast Convention Centre at the...
read more
2023 ESSA Innovation & Practice Forum - Have you registered yet? Register now to secure your spot at the 2023 ESSA Innovation & Practice Forum. SESNZ members register at ESSA prices. WHAT DO YOU RECEIVE?- Access to keynote speakers*- Access to concurrent...
read more
Rugby Sevens Hamilton, NZ
World Indoor Athletic Championships, CHina